Fleet Week Pancake Breakfast on Red Oak Victory
October 8 @ 9:00 am

-

1:00 pm
Come to the Red Oak Victory on the last day of Fleet Week for a Pancake Breakfast, great music, Navy displays and… The Blue Angels!
Every year, Fleet Week honors both the current U.S. Navy and our Naval heritage. Join us on board the World War II veteran ship USS Red Oak Victory on Sunday, October 8 for a Pancake Breakfast , live music, and Navy exhibits to mark San Francisco Fleet Week 2023.
What could be better for Fleet Week than to enjoy a breakfast cooked in and served from a real World War II ship's galley? We'll be celebrating our Navy and our history while enjoying a great breakfast, great views, and live music on the decks of the Red Oak Victory. The George Cole Trio will entertain with classic jazz and pop tunes. We'll also have exhibits of Navy artifacts and a large model of a World War II convoy at sea. And, as a special bonus, the Blue Angels usually fly over the ship on their way into the Fleet Week Airshow over San Francisco Bay. (For more information about San Francisco Fleet Week 2023, click here.)
Our radio room will also be in operation so you can send a radiogram to anyone in the world. Imagine you are on a world cruise in the 1930s and have the crew send your message via our original, Morse code-only ship's radio. Just fill out the radiogram form including the recipient's email or phone number and we'll take care of the rest at no charge!
Your breakfast is only $15 for adults and $5 for children 8 and under. Breakfast service begins at 9:00 AM and ends at 12:30 PM. All tickets include a self-guided tour booklet and, as an added bonus, a limited number of same-day docent-guided tours of the ship are available at a discounted rate.  Arrive early to reserve your seat with the best view of the Fleet Week action on the Bay! After breakfast, enjoy a tour of the ship or just sit, chat with new friends, and enjoy beautiful views of the San Francisco Bay.  If you stay later in the day, you can also watch the Fleet Week Airshow.
Click on the TICKETS link for more details.
Most of our events sell out ahead of time. We therefore strongly encourage you to purchase your tickets early because once they're gone, they're gone!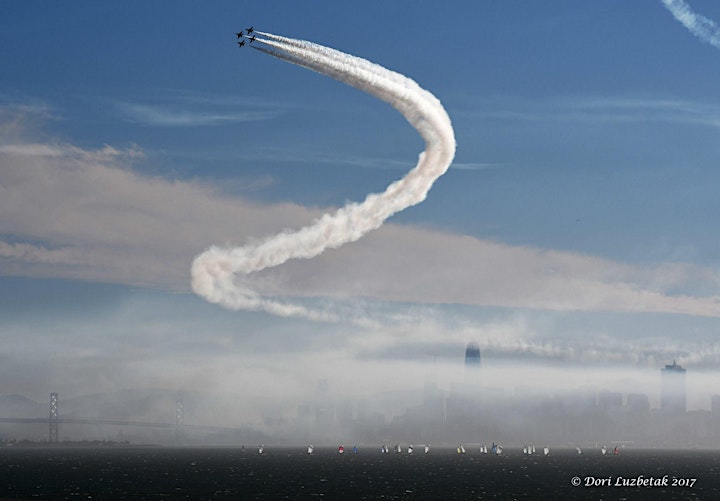 Above: The Blue Angels seen from the deck of the Red Oak Victory during Fleet Week 2017 .